Philips Trimmer QT4005 Review
 The QT4005 is a standard, budget-priced beard trimmer that gets the job done, but it would be a great buy if the run time was better.
Back in 2012, when Philips announced the QT4005/15 Pro Skin Advanced trimmer, few things seemed noteworthy and, these were one of India's first few cordless trimmers, for one, and they were surely one of the most affordable.
Whereas the previous models were a bit of hit-and-miss, the QT4005 is made of durable plastic and has stainless steel blades. What's more, it has a sturdy adjustable beard clip or comb (however you want to call it) which looked just as good in our hands-on test as Philip's trimmer catalogue would have you believe.
Throw in a powerful motor, and you can easily expect the same strong performance from the latest Philips models.
So is this it? Has Philips built an evergreen trimmer?
More to the point, does this precision trimmer model get enough things right to justify well over 10000 reviews on Amazon.in and Flipkart.com?
Let's go deeper and find out more in this hands-on QT4005 trimmer review.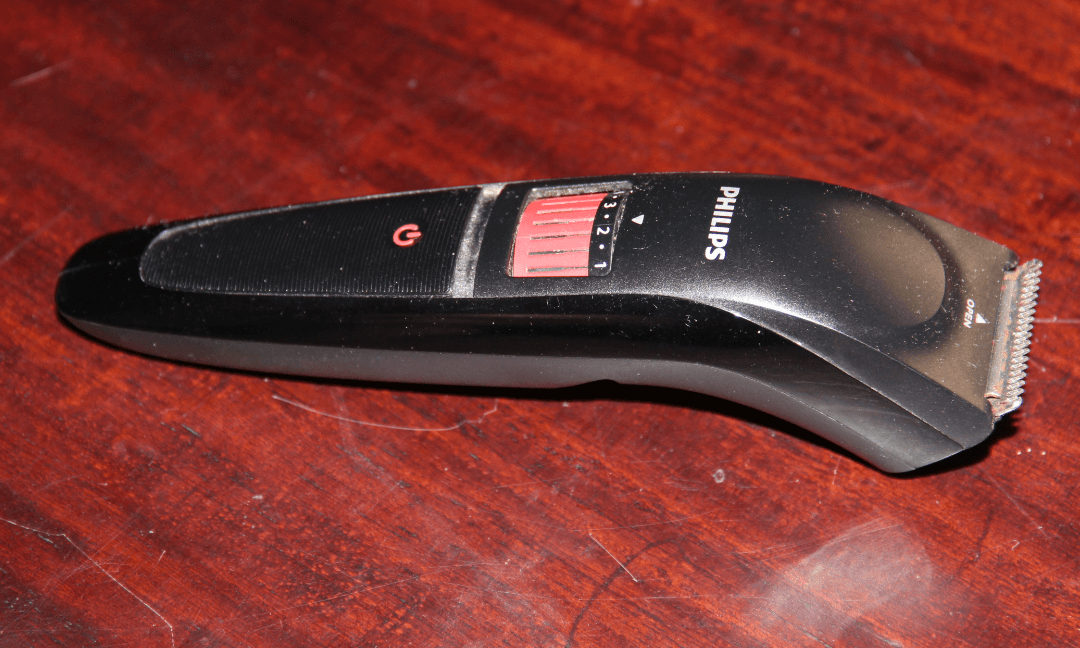 Pros
Good-looking design
Decent build quality and performance
Quite grippy and comfortable for most people
Cordless design
Comes with a detachable blade head and tiny brush for easy upkeep
Best of all, great price
Cons
Run time per charge is poor
Blades tend to develop rust over time
Suffers from excessive vibration and noise at times
Zoom wheel isn't easy to use
Summary
The QT4005 isn't the most well-designed and powerful performer, but it's a practical and cost-effective choice.

Look and feel
Glossy finish and contoured construction: the QT4005 is as nice to feel as it is to look at. This trimmer is wrapped in a cheap but sturdy plastic, with a large push button and a rubbery zoom wheel.
We tested the QT4005/15 model, in particular, so we can speak about that more directly: the black surface picks up smudges and scratches quite easily.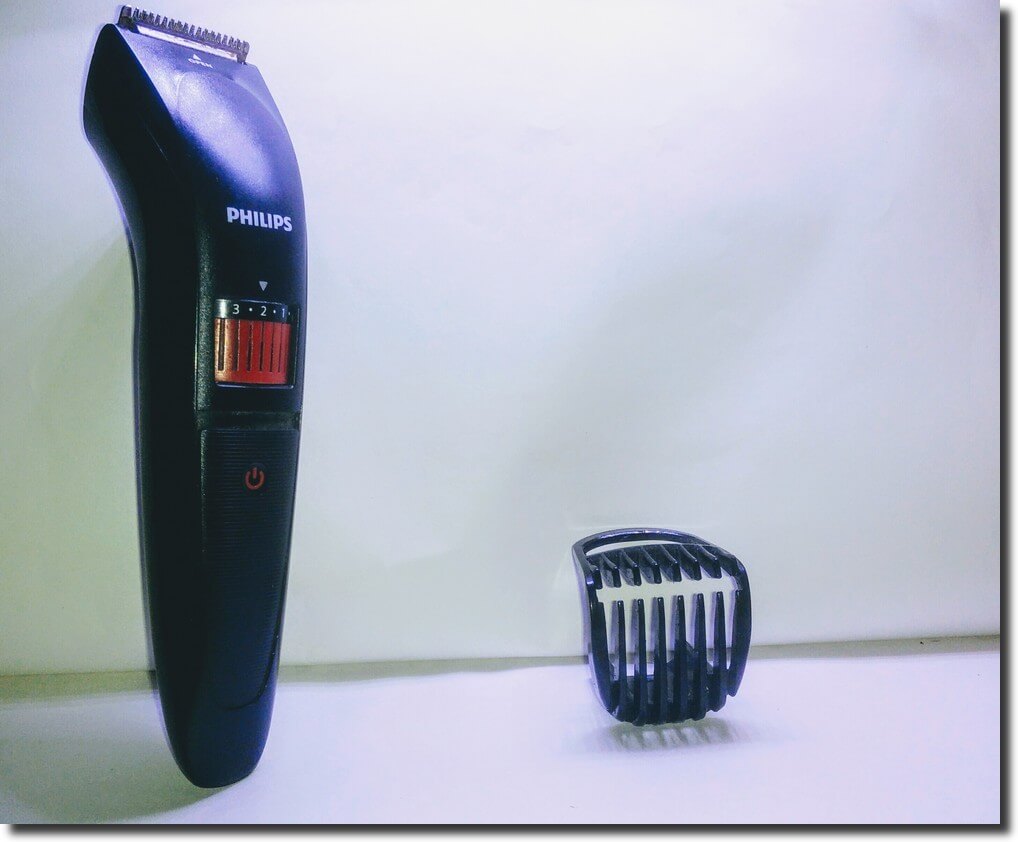 At less than 33 grams, the QT4005 trimmer has a relatively light build. It's thinner than most models out there but has an interesting shape: it has a profile that is small at the base and gradually increases in size as you go upwards, developing into a broad and thick head assembly. It does feel good in the hand but it is certainly not the most ergonomically designed Philips trimmer in India, a surprise from Philips who take great pride in their product design.
The one thing that you might have wanted that you won't get with the QT4005 trimmer is an easy to use compact power button; there's just a long push/power button on offer here. And, you need to slide it all the way up to get the trimmer started. The model we tested had a finicky power button. It is sort of difficult to push up and press down the button. Oddly, its design is slightly off from the typical push up-press down two-way-lock-in movement and you hear a little noise even if you mildly push the button up from its groove. And the scale pattern on the face of the button doesn't help either.
It's a cordless trimmer so you can get it to work wherever you want, without having to worry about the usual charger cord that ties you to a three-foot circle.
As with many of the latest Philips trimmers, QT4005 has a zoom wheel, which is decorated in red and black, and has a rubbery texture to it. The zoom wheel allows you to experiment with 20 different length settings, from 0.5mm up to 10mm. While the wheel lets you select your preferred trim length, it does so the hard way. To be clear, the zoom wheel doesn't rotate freely all the time. Sometimes, it just feels like there's something that locks it up and keeps it from turning smoothly.
Pro Tip: Press the zoom wheel on the front firmly with your thumb, and use your index finger to turn the back of the wheel.
Impression: A budget trimmer with a not so inspiring design.
Performance
"DEVELOPS HEAT QUICKLY." I wanted to make this note in the performance section of this trimmer review, back when I was still playing around with it. It's weird, in a way, to start this section without discussing about blades, speeds and shapes, but then, once you start using you might notice that the trimmer has a powerful motor. That heat, though—that will develop quickly. It's also important to note that the machine gets loud all too easily. It's a shame that the trimmer develops heat and gets loud, because under the hood it's a more than decent, capable system.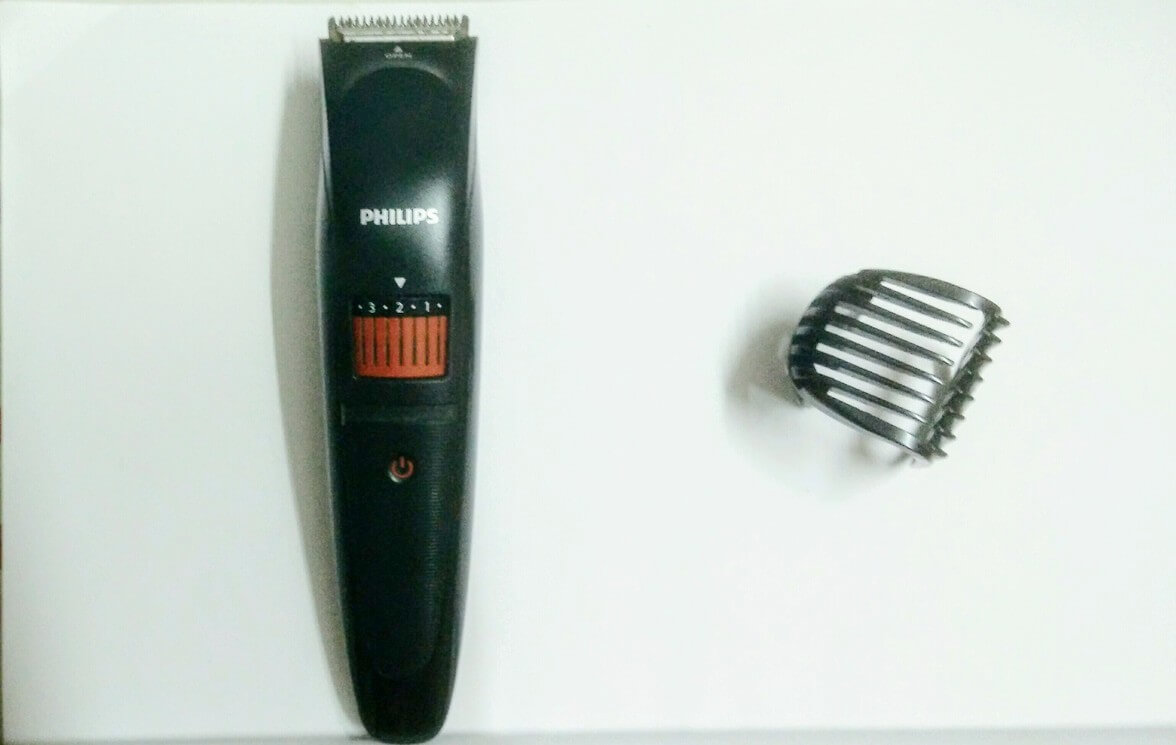 Upon first look, the trimmer's blades are made out of stainless steel and look capable of doing a good job overall. However, at times, it seems to cut erratically leaving patches of hairs in certain places which you may have to go over and over again to be able to remove hairs evenly. Remember, it might cause little pain or some sort of irritation at times. Take off the guide and trim with the bare blades and things seem to improve though.
QT4005 does not collect hair very well and that has an impact on its performance. When there's a lot of hair clogged up, the motor starts to suffer which in turn slows down the trimmer.
Impression: An average performer with some minor issues.
Length Settings
The QT4005 trimmer does a pretty decent job giving a more than enough length settings to cut your beard to different lengths and styles. Turn the zoom wheel once and it makes a 0.5mm increment in trim length. As indicated earlier, the zoom wheel doesn't seem to handle very well.
Impression: Multiple length settings is one of the big saving graces of this trimmer.
Charging, Battery and Run Time
It has a single AAA NiMh battery that takes forever to be fully charged. A running time of no more than 45 minutes per charge is certainly not what you'd expect to see in a trimmer of this quality.  Yes, more than 6 hours of charging for a meager 45 minutes of run time doesn't look good at all.
Worse yet, the battery is non-replaceable so you might as well have to buy a new beard trimmer just in case it starts developing battery issues.
It's a shame that you can't use it while charging; make sure you get it fully charged to avoid last minute surprises. Lack of a LED light that alerts when charging is complete or a battery indicator that warns when you're about to run out of battery is another miss.
Impression: A big disappointment in the battery, charging and run time department.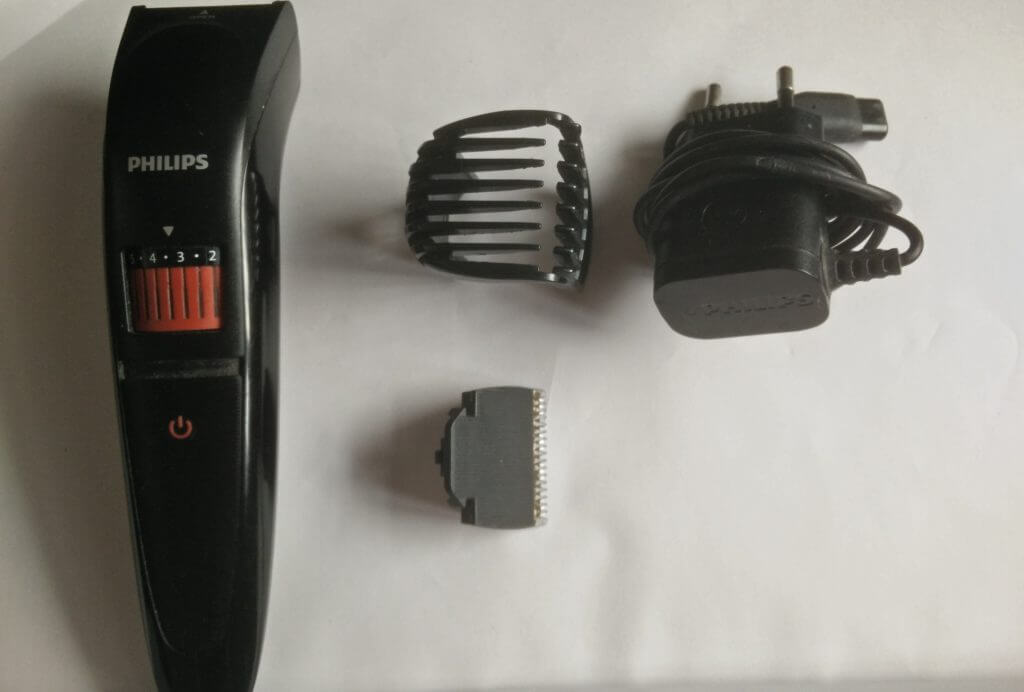 Cleaning and Maintenance
QT4005 trimmer has a detachable head so you can take it out and run it through water to clean any hair inside the machine. Despite the trimmer head being washable, QT4005 is not easier to clean (and maintain) than most trimmers out there.
As was mentioned earlier, the stainless steel blades, oddly enough, tend to develop rust upon regular watering.
Impression: A no-maintenance trimmer. Then again, it has some issues.
THE BOTTOM LINE
Want a cheap Philips trimmer with no frills and extras? You won't be disappointed with the QT4005 trimmer. Sure, it does what it is supposed to do but it's a basic budget priced trimmer with a cheap and plasticky design and mediocre performance.  More importantly, its run time is very standard leaving you a lot to be desired.
TheHomeaholic Recommendation
QT4005 is a decent entry level trimmer. I recommend you to save up some money and buy a slightly more, feature-packed trimmer that offers more value for your money. Here are some of the best Philips trimmers you could buy right now.
Published by