Philips QG3387 MultiGrooming Kit Review
Reviewer's Note: The QG3387 is a good entry level body groomer from Philips that provides you everything that you need to groom your body from head to toe. It makes a good buy for any well-groomed guy
Upon first look, the QG3387/15 trimmer has it all- a stylish body, multiple attachment blades, different combs, decent battery power, and what not.
But does it deliver the goods? Is it good value for money? Does all the great features, specs and benefits combine well to justify the positive reviews that it's been getting since it came up for sale on Amazon.in and Flipkart.com etc?
Let's find out in this detailed Philips QG3387 review.
Pros
Simple and sturdy design
Decent build quality and performance, characteristic of latest Philips trimmers and grooming kits
Turbo mode delivers an instant surge of power whenever you need it
Comes with 5 different blade attachments and 4 different combs
18 integrated length settings
Waterproof
Accompanied by a travel pouch
Cons
Blades are good but not very superior in quality.
The plastic attachments are all great but feel a bit flimsy
Runtime per charge could have been better given the different kinds of attachments it comes with
No zoom wheel
Summary
The QG3387 makes a very good case for an entry level multi-purpose grooming kit, but it's certainly far from perfect. Its build quality needs to be better and its blades are not quite as durable as we'd have liked. Anyway, it's still worth buying, thanks to its turbo mode operation and an impressive number of attachments.

QG3387 Detailed Review
Let's quickly go into the specifics and find out more about this body groomer.
Look and feel
Before we go into details about the design of the QG3387, let's make one thing clear: we are generally not very fussy about looks. But give us a good looking device and we'll take it any day.

As far as this Philips 7000 series multi grooming kit is concerned, it is a very humble-looking device with good build quality.
It sports a black metal body design and has a slightly curved profile that is easy to grip and not too bulky.
The long handle makes it easy to acess those spots that are generally hard to reach. Moreover, its dynamic and sleek profile is emphasized beautifully by a thin chrome frame running along the length of the device.
The top looks shiny while the bottom is characterized by a few lines cut crisply into the body. The chrome frame feels like it will attract fingerprints and pick up scratches easily over time whereas the metal casing is less likely to do so.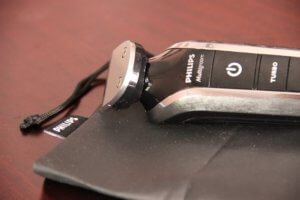 The Turbo button is easy to get to whenever you feel the device struggling a bit. Conveniently placed on the center of the device just above the "Turbo" button is a square-shaped power button- and it makes turning on/off the device very easy.
Some users may find its placement a bit weird but it seemed just right to me.
Impression: The QG3387 looks simple without any extra frills and it feels sturdy and durable with the control buttons rightly placed.
Performance
The QG3387 motor is not as powerful as they come but it is definitely loaded with enough power to help you see all your trimming, shaving and body grooming tasks through.
That being said, though, there might be instances in which the trimmer struggles a bit – particularly if your hair is quite curly, thick and dense. For such instances, the extra power is always available in the Turbo mode – just flip the turbo mode on and the speed of the device goes up a notch.
Regardless of the new cutting speed, though, you might have to do more than a few passes over the area to see good and consistent results.
And, there are always few odd strands of hair sticking out here and there- which is not ideal.
We really can't say what sort of a difference the turbo mode makes in general, but it drives its noise level up, making it a lot louder all of a sudden.
Impression:  It is for sure more than a decent performer. Other than that, there is nothing to write home about.
Blades and Beard Attachments
Blades
The blades are made of stainless steel and feature a rounded design to minimize the odds of abrasive cuts and rashes, which is good. But this does hurt the cutting efficiency of blades.
No matter which blade attachment you use, it takes more than a few passes to get consistent results.
Impression: The blades are 
---
Full-Size Metal Trimmer
The main trimmer is the most useful of all. It works smoothly and there is no need to worry whether it would tug at hairs or cause any pinching or pulling sensation.
Having said that, though, setting the trimmer comb to the right length setting can be a bit hard: it takes some pushing to and fro to get it set properly.
Another minor issue is that there is some small wiggle room in the beard comb and it might leave you with an uneven finish at times.
Tip: Apply constant pressure by pressing your fingers on the comb to keep it from causing any such undesirable results.
---
Detail Trimmer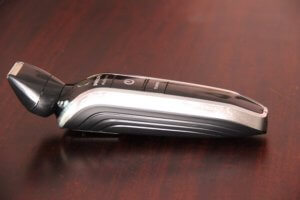 There are not many differences between the precision trimmer and main trimmer except that it is much thinner and gives you better control.
For the most part, you will be using this without a beard clip to define precise lines right around the edge of the beard and the back of your neck.
This QG3387 attachment would be very useful if you are someone who loves to highlight the edges and lines of your beard and keep it groomed without much trimming.
It also comes in handy for trimming little hairs on either side of the area under your lip without actually touching the lines between the mustache and beard.
---
Precision Shaver
For starters, the foil shaver blade attachment is okay-ish. It might not be suitable for ordinary shaving.
Let's face it: this blade attachment doesn't make this trimmer as good as an electric shaver or a dedicated, full-blown razor. However, it does its job. That's all there is to write about it.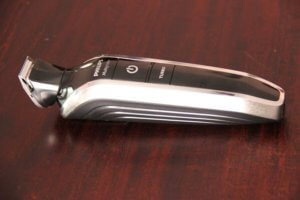 Another thing to note is that it is not meant to be cleaned thoroughly. Many reviews suggest that the blade seems to dull fairly quickly and might fall apart over time, indicating the use of cheap materials in its construction.
---
Bodygroomer
When I bought the QG3387 I was not completely sure what this body groom shaver was for.
I'm a bit particular about what I use for grooming and thought I would never use it. Anyway, I decided to give it a crack and I am happy I did.
Its design is unique in that it has mini clipper blades on both sides of the attachment so regardless of how you are holding it or which direction you want it to go, you can make it pass all over the area for a nice and even trim.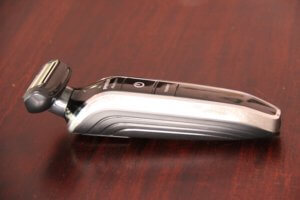 Although, at times, it takes more than a few passes from multiple angles, the manner in which this attachment is designed this means that you need to run it back and forth instead of playing odd angles as you'd with a razor.
It also makes it very easy to work through areas with sharp contours and won't hurt or pinch even when used on sensitive areas.
---
Nose and Ear Trimmer
Last but not least, the revolving trimmer with a pointed design is a nice addition to the multi grooming kit that makes removing unwanted hairs in the nose and ears a lot easier. However, it is not totally painless; on the odd occasion, though, the trimmer did pull a few hairs, causing a bit of a discomfort.
---
Beard Clip/Combs
The QG3387/15 multigroomer kit doesn't have a zoom wheel. You can still get your trimmer set to different length settings thanks to its step-like design on the back into which the comb/beard clip locks into place. This is how it works: pop the beard clip on the trimmer attachment and slide it in/out to whichever length setting is convenient to you.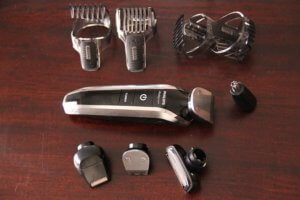 All the four beard clip attachments are made of plastic and feel quite cheap and flimsy. Overall, we'd have liked to see all clip attachments fit snugly with the trimmer.
---
Beard and Stubble Comb
I have not tried it many times, but, whenever I tried, I have always thought that its design needed more work. As it is, the comb feels wobbly and a bit unstable when popped on top of the blade attachment- as if it will come loose off the locked setting.
Maybe it is the open back design of the trimmer or maybe it's something else at play. Whatever it is, it always makes me worried as to whether I'd end up shaving a patch of hair off my beard if I didn't get the angle or placement right. Maybe it's just me or a design flaw, but anyway I'd rather pop it in and set it to work on the highest setting than risking a sloppy finish.
---
Hairclipper Comb
I wanted to give it a try a couple of times mainly to thin out the hair and the sideburn so that my hair (where it and beard look just about the same length, and it worked alright. This attachment suffers from the same wobbly feeling as the beard and stubble comb, although not as much as I'd have feared. It did give me good results when I got done with clipping my hair.
---
Body Comb
This comb clip attachment works as it should and allows you to keep your body groomed the way you want. I'd say that it doesn't add a great deal of value to the kit overall but it's there and it doesn't hurt.
---
Detail and Eyebrow Comb
As you might have guessed, this doesn't get much use at all. However, it works as intended and helps you add detail to your eyebrows and those areas which need more precision than control.
Impression:  All attachments help you keep your body well groomed from head to toe. There are a few minor complaints though but they are no deal breakers.
Charging, Battery and Run Time 
Considering that its a multigroom device, it's a big disappointment that QG3387 won't work while plugged in. Sure, we'd have liked to see a clear note about this from Philips but customers are left to figure it out by themselves.
As for runtime, the QG3387 is supposed to give you 50 minutes of run time for every 60 minutes of charge. And that is not a good run-time-per-charge number that Philips would love to brag about. Moreover, it takes a long time for the Ni-Mh Rechargeable battery to get fully charged up. Adding to its woes, the battery doesn't hold charge well and it barely lasts 3 shaves.
QG3387 puts up dismal show in this department. Maybe these numbers would have done a world of good to a run-off-the-mill trimmer. But we're talking about a multigroom kit here.
Impression: Set your expectations low and be ready to charge it frequently; or else, you may not be quite happy with its average performance.
Cleaning and Maintenance
QG3387 is completely waterproof, which means you can get in the shower and start using it without having to worry about the damage it might cause to the electrical parts inside. For anyone that wants to use it for a long time, I would suggest not to do it.
It is another maintenance free device from the Philips stable. There is no need to apply oil for priming. Neither does it require any lubricant to work normally.
Impression: Upon first look, it seems to be a device that is fairly easy to clean and maintain. I hope it stays that way.
Closing Thoughts
There are times when even the best Philips trimmer might not be useful. For instance, you might want to make your cheek lines defined or get a little funky with your side burns.
Or maybe you want to remove unwanted hair on your chest or something.
This is where the multi-grooming kit comes in handy. At least, that is what Philips thinks.
Whatever the reason the company launched its multi grooming kits for, one thing is very clear: these are multi purpose kits that do a very good job, allowing you to do more than just trim and shave.
And with the QG3387/15 body shaver and trimmer, you can trim, shave and groom many parts of your body- from side of the cheeks to chest.
Just name it.
The Bottom-line
I've been using the multigroomer for many weeks now, and while it's clearly not a premium option, it's surely got enough of what an average person would need. Multiple attachments as well as a 2 year Philips warranty only sweeten the deal.
QG3387 Recommendation
Go for the QG3387 multigrooming kit if you're looking to buy a versatile , all-in-one device that can help you trim and/or shave many parts of the body. If you're looking at a practical trimmer or electric shaver , you'd do better to look elswhere. There are surely better beard trimmers and shavers for men in India from several top brands including Philips.
Published by