Max Care Coldpressed Virgin Coconut Oil Review
Max Care coldpressed virgin coconut oil is receiving a lot of good press of late. It's the latest super oil in India, promoted by several websites and YouTube channels run by health enthusiasts, mommy bloggers and cooking experts.
Is it really all that good? What is this oil about? What is it made of? How different is it from the standard coconut oil you can get from the bazaar? What are the benefits of using this oil?
And a lot of other questions are answered right below in this review.
Let's get into it.
Reviewer's Summary
Max Care virgin coconut oil is cold pressed, meaning it is extracted at optimal temperature to ensure it is loaded with goodness of fresh coconuts.
And that simply means that it has a lot of uses.
Being 100% natural, it is widely used for cooking particularly frying. When added to your diet on a regular basis, it could make a definite difference to your overall health. 
What's more, it can also be put on your body.   Loaded with antioxidants, it acts as a good moisturizer for skin and a good hair oil to keep your hair nourished and conditioned.
In addition, it is also an oil of choice for moms looking for a good massage oil for their babies. A lot of moms turn to this oil for giving their newborn babies a good old firm Indian maalish, looking past several special baby lotions from leading companies.
Overall, it comes in a sleek and sturdy, see-through pack at a reasonable cost. It can be put in to and put on to your body. 
Either way, this oil will serve your purpose and bring you good results. A highly recommended product. With over 14000 positive reviews, this coldpressed oil continues to be a best-seller in this category.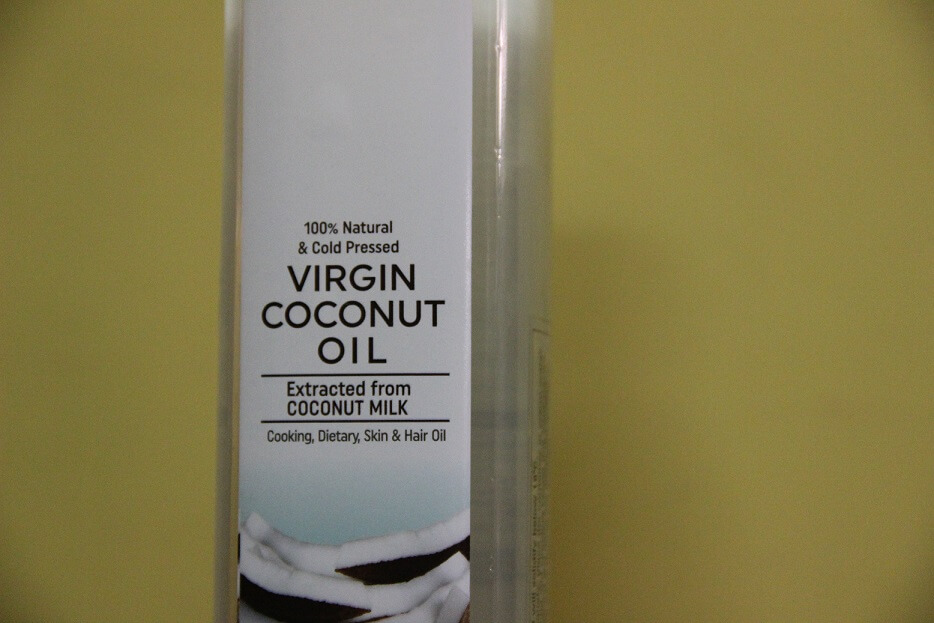 In the sections to come, we will take a look at some key aspects of the Maxcare Coldpressed Coconut Oil: what this oil is, who this is for, what benefits you can get from using this oil and more.
Let's start.
What is Different about this Oil?
Taken from pure coconut milk, Max Care virgin coconut oil is 100% natural and cold pressed virgin coconut oil.
Unlike commercially available coconut oil, the Max Care coconut oil is said to possess all the essential micro nutrients and antioxidants that are naturally available in fresh coconuts.
But how?
Max Care virgin coconut oil is derived from fresh coconut milk through a manufacturing process that doesn't involve heat or any sort of chemicals. As a result, all the micro nutrients and rich antioxidants, which are found in large quantities in fresh coconuts, are not lost during production and make it out intact.
This explains how the oil is able to retain the natural taste and aroma of fresh coconuts it is made from and is not as greasy as commercial coconut oils.
On the contrary, refined coconut oils go through a different process involving several stages from extraction, wherein the dried coconut meat(also known as copra) is finely pressed into oil, to, refinement, in which the oil is well treated at first, refined and bleached as necessary next, and finally deodorized to make its aroma more inviting. 
Anything that is processed is not natural. And that means the refined oil that comes out of this manufacturing process is made artificially pure and suitable for its designated use, whether it be for cooking or cosmetics.
What's worse, it loses all essential micro nutrients and antioxidants in the process and tastes nowhere close to coconut oil made from fresh coconuts and does not give off fresh aroma as well.
Ingredients
100% organically grown fresh coconuts. Made from meat of the coconut. Doesn't contain any preservatives or artificial ingredients for added flavor or odor.
Texture, smell and taste, consistency, absorption etc.
Color: Max care virgin coconut oil is crystal clear and supposed to change into a milky white solid when the temperature goes below 18 degree Celsius.
Consistency: It has a smooth texture characteristic of fresh and pure coconut oil made from pressed coconut meat without using any artificial methods of preparation.
Smell: It has a faint sweet smell with fine coconut traces in it. Unlike processed coconut oil, it doesn't smell strong at all and you can take a whiff with confidence.
Taste: Its taste is not too different from its smell. Just like its fresh and faint coconut aroma, it has a sweet taste to it. Nothing strong.
Who this is for
Ideal for people who are looking to add coconut oil to their diet for there are simply too many benefits linked to cooking with coconut oil in general and virgin coconut oil in particular.
Ideal for people who are looking to make coconut oil a key component of their skin and hair care regimen.
More suitable for people who are looking to get into a good natural skin care routine involving natural products that act as a moisturizer for skin.
Also perfect for people who have had enough of the mediocre results they get out of commercial coconut oil for hair and are now looking to use unrefined, completely natural, 100% pure coconut oil without any preservatives or additives.
Benefits
Cooking
Great for high-heat cooking and frying
Coconut oil being a stable oil is most probably a healthier option for high-heat cooking and frying mainly because of its high concentration of saturated fats.
Generally, any stable oil is best for frying, as it is less prone to vaporize and smoke particularly when brought to very high temperatures.
When heated to high temperatures, even healthy oils like olive oil which are not as stable as coconut oil tend to release polymers and other free radicals that research has associated with cardiovascular disease and cancer.
More MCTs Means Less Fat Stored
The composition of fatty acids in coconut oil is quite different to other edible oils mainly vegetable oils.
First of all, a very high proportion of coconut oil is comprised of saturated fat, and the bulk of it comes in the form of medium chain fatty acids (MCTs).
What you need to know about MCTs is that the way they are digested is different to long chain fatty acids. And as a result, they may increase the metabolic rate of the body.
In fact, while MCTs are quickly absorbed in the blood stream and transported to liver, LCTs are usually absorbed through the lymphatic system in our body.
What this means is that MCTs are less likely to be stored away as fat in your body and are basically used for energy requirements.
Contains Lauric Acid that is Antimicrobial
Lauric acid, which is the key fatty acid available in coconut oil, is a MCT. Also found in breast milk, this acid boasts of strong antimicrobial properties which help protect you from infections caused by gut microorganisms.
Skin Care
In addition to making your cooking better, coconut oil also finds its way into your skin and hair care.
Let's see how Max Care can help you in your beauty routine.
Body Massage
The Max Care VCO is a light, non sticky liquid oil without the typical coconut scent, and doubles as a good oil for massage.
It has less glide over skin than commercial coconut oil, making it appropriate for the shorter massage strokes that are commonly used to alleviate tension from target areas in muscle.
Foot Care
If you have peeling skin and dry, cracked areas under your heels, rubbing this oil into your foot may help making your feet feel smoother and look prettier.
Thanks to its moisturizing properties, the coconut oil helps quite a bit particularly with foot issues like the ones mentioned above. I'm sure prolonged use should cause a noticeable difference in the quality of skin on your feet.
Tip: Cover your feet with clingfilm and leave the oil on all-night every night. Or, if your dryness is not severe and fairly mild, take it easy and repeat this process once every two nights.
Cheap Makeup Remover
It's just great for lifting off make up (particularly eye-make up) and leaves your skin feeling moisturized, as well.
Some reviewers commented that the oil was simply too thick for them and they had to use a very little quantity to keep it from clogging the pores of their skin.
Hair Care

Hair Conditioner
As a natural conditioner, this coconut oil may prove quite useful in conditioning your hair mainly by preventing protein loss, making the hair shafts smoother and improving texture. 
If your hair is dry, take some oil and apply it on the dry tips. That should help with conditioning your hair and providing enough nourishment so it doesn't break often. But then, you shouldn't expect to see much of a difference in the overall thickness of your hair.
Remember no hair oil can create new hair follicles or completely arrest hair loss due to hormonal issues.
Note: Coconut oil remains solid at high temperatures, but some say the oil gets a bit stickier and leaves an unpleasant smell especially after a blow-dry session. Do not use it after blowing your hair dry. And that is not to say you should use it before heating. Coconut oil, in general, is a good heat conductor and applying it before heating your hair may create more damage than expected.
For Healthy Scalp
Poor scalp health (dry scalp) often refers to poor circulation of blood, unless it is caused by eczema or psoriasis. It is no small problem and must be dealt with care, particularly if flaky cells appear on your clothing.
But massaging the scalp with virgin coconut oil like this not just stops flakiness but also makes your scalp clean, , guaranteeing you shinier, stronger and healthier hair.
Whenever you wash your hair, for best results, use your fingers to work the oil well deep into your scalp in a nice and gentle circular motion.
Is it Good or Bad?
There are some really good things and not so good things about the max care coconut oil.
Here they are.
Good Things
Made from fresh coconut meat, the oil is pure and 100% natural. And that's a great incentive for people who carefully pick their products for the purity they bring.
It seems the maker has put a lot of thought into manufacturing a bottle that serves more than one purpose.
Just to recount everything, the oil is great for cooking especially frying, and works well when added to diet or as a topical application for better skin care and hair care.
A couple of things worth noting about the virgin coconut oil are its flavor and how fresh it is in taste and aroma. It has a fresh, coconut flavor which makes recipes a tad more different and delicious.
In addition, it has got a good faint aroma to it, totally different than the nutty smell linked to refined coconut oils available in the market.
Coconut oil, in general, has a fairly long shelf life. But virgin coconut oil like this one lasts even longer and doesn't go bad anytime soon, because of its anti fungal and anti bacterial properties.
This bottle will be good for 24 months, now how about that?
Not So Good Things
But the design surely needs work, if user reviews are any indication. It's grown to be a common complaint among repeat users mainly because the older models of the product were way better.
The latest model comes in a long, slender transparent bottle with no cap or any other attachment.
We would like to have seen a stopper dispenser that controls the amount of oil flowing out of the bottle and also keeps it from seeping all along the sides.
Without one, there is not much control over the quantity of oil that comes out every time you try to take some out of the bottle.
Not Great for People with Very Dry Skin
While people with oily skin and dry skin in general had great things to say about the oil, some reviewers with very dry skin were certainly not amused. A couple of users noted that their skin felt dry a few minutes after applying the oil.
If these reviews are anything to go by, the oil would not be all that effective for people who have very dry skin. But I have a fairly dry skin and I find the oils moisturizing properties reasonably good.
Overall, the good things clearly outweigh the bad things, making this max care coconut cold pressed oil a great buy.
My Experience, Results and Recommendation
I am very happy with what I am able to get out of the coconut oil. I bought it, hoping that the purity and freshness of natural coconut oil made from organically grown coconuts would be great. And it turned out to be just as great.
Cooking
I am not a favorite of adding coconut oil in my diet but I must admit I have taken to trying out different recipes using coconut oil of late and this oil in particular has been great, for starters.
While the coconut oil has not become a staple in everything that I cook, it has surely led me to consider rethinking my preferred way of preparing curry and chutney dishes.
I must say, the flavor it imparts to all the curries I make is remarkable. And, I have been getting some real good feedback too. It definitely has a rich aroma, when heated, that totally contradicts how mellow and sweet it tastes.
I have been using it frequently but quite sparingly, only for some dishes that I think could benefit from the extra richness the oil brings out.
Not to miss the health benefits it provides, this oil is loaded with mono unsaturated fatty acids that are believed to help improve metabolism and reduce cholesterol. And that ticks quite a few boxes for me.
Skin and Hair
I have been heavily using this coconut oil for my skin and hair, and the results have been good so far.
I apply it on my skin straight after getting out of shower and it does a good job as a moisturizer. Thankfully, it's not too greasy and smelly like refined coconut oils and suits me just fine.
Every now and then, I work my eyebrows mixing it in with soulflower coldpressed castor oil. I've got some decent growth to show for it. Moreover, I use it quite often to lush my lashes and it has been nothing short of great. Its consistency is just about right for a make up remover and I have no trouble lifting off make up with it.
Some Commonly Asked Questions about Max Care Virgin Coconut Oil
Can it help with weight loss?
Max Care coconut oil has about 130 calories per tbsp, which is on par with the calorie value of olive oil etc. That's quite high.
As a matter of fact, it is not a number you associate with something that is supposed to aid with weight loss. And that means it isn't going to be of great help on your weight loss journey.
Having said that, it doesn't mean that you shouldn't think about using it at all, for there are many other health benefits of using a clean, 100% natural coconut oil.
How good is it for cooking?
Max Care virgin coconut oil remains solid and white at room temperature and takes time to oxidize, meaning it doesn't alter much chemically even heated to high temperature unlike other cooking oils.
It is said to be one of the richest sources of cardio-friendly medium chain fatty acids which improve the immune system with its antimicrobial effects and stimulate metabolism well.
And that makes it one of the healthiest cooking oils out there.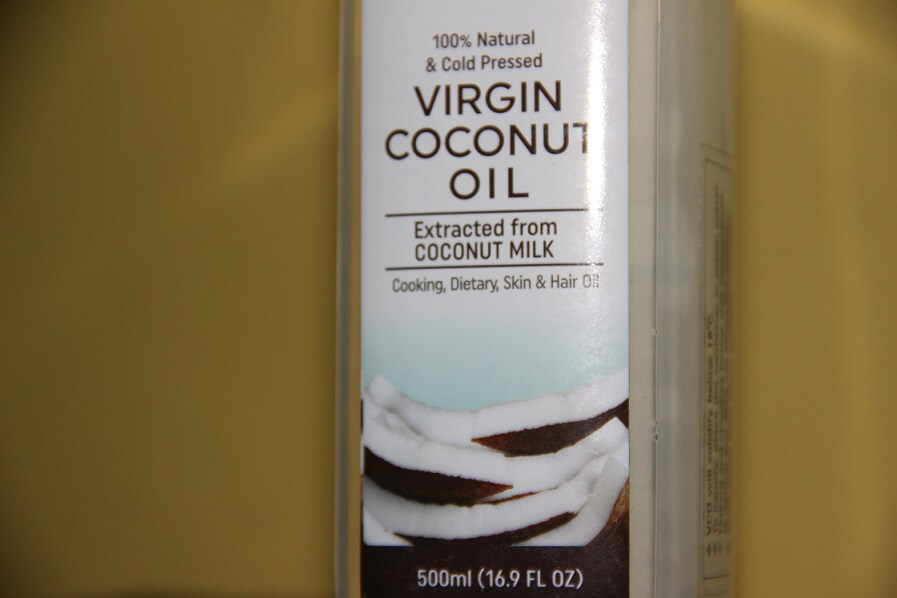 Best Virgin Coconut Oil in India
Given its long list of applications, there is no surprise why the Max Care virgin coconut oil is touted to be one of the best selling coconut oils in India.

Based on your needs, this multipurpose coconut oil can be used sparingly or on a daily basis as a oil for cooking or dietary or topical application.

Published by