Indulekha Bringha Oil Review- The Most Detailed Review on the Net
Is Indulekha bringha hair oil really effective?
Can it help grow new hair or, at the least, stop/treat hair loss?
What are the benefits of using this oil?
Are there any side effects to worry about?
How to apply Indulekha bringha oil?
Can we at least expect to see some good results with this oil?
Does it work as advertised?
Find out answers to all these questions and more in this exclusive Indulekha hair oil review.
Indulekha Bringha Hair Oil Review, Ingredients, Benefits, How to Use
Reviewer's Note: Indulekha bringha hair oil boasts of a great Ayurvedic formula proven to stop hair loss and promote hair growth.
My Hair Loss Story
I suffered mild hair loss in my mid-twenties.
I didn't care until it got to a point where my hairline started moving backward.
It felt terrible to see hairs all over my pillow after a stressful day at work.
My stress levels were quite high. A couple of cups of green tea daily did help keep stress levels down but it is quite hard to keep hair loss in check once it sets in.
Suddenly, I felt like I started losing more hair than ever. Maybe, I panicked. Nevertheless, it sucked to realize that I can't do much about it.
I felt stuck, not knowing what to do to prevent myself from going bald. I started looking for hair loss products, particularly hair growth oils.
I did not find anything good so I kept looking, curious as ever. Eventually, I decided to try out an Ayurvedic hair loss solution with no side effects.
And that's how I found out about the Indulekha oil.
I searched for a few Indulekha reviews online, and also browsed through several images and videos showing the before and after photographs of people who tried it on.
While a few photos and videos were convincing, some did not look natural at all. Here is a Indulekha video review from a user, who was not particularly very happy with the results he got from the oil.
After spending a lot of time going through such customer reviews and complaints, I had absolutely no idea whether Indulekha oil would be helpful for me.
But I badly wanted to find out one thing: Is Indulekha bringha oil good or bad?
I thought I would be better off trying it myself rather than just read through random reviews on Mouthshut and other websites including Amazon.
I wanted to save myself some trouble and test the oil to see its actual results. I found it a bit expensive and decided that I should keep checking the special deals to see if it is sold at an offer price. Luckily I found one before long and bought a 100 ml Indulekha selfie bottle hair oil.
In the rest of the post, I am going to give you a detailed account of my observations about this all new hair formula.
We'll have a look at everything that is there to know about the Indulekha bringha oil.
From packaging to results, we will dig in and look at all the things so you can make a well-informed decision as to whether it is worth buying Indulekha hair oil for the amazing results that the maker claims it can give you.
What's in the Pack?
Before I jump in, let me go over the contents of the pack so you know what to expect when you are all set to open the pack yourself.
As shown in the image below, the pack contains the following:
a selfie bottle,
an applicator attachment and
an extra cap just in case you end up losing the one that it comes with and
a handy guide with usage instructions and general information about the oil and its ingredients.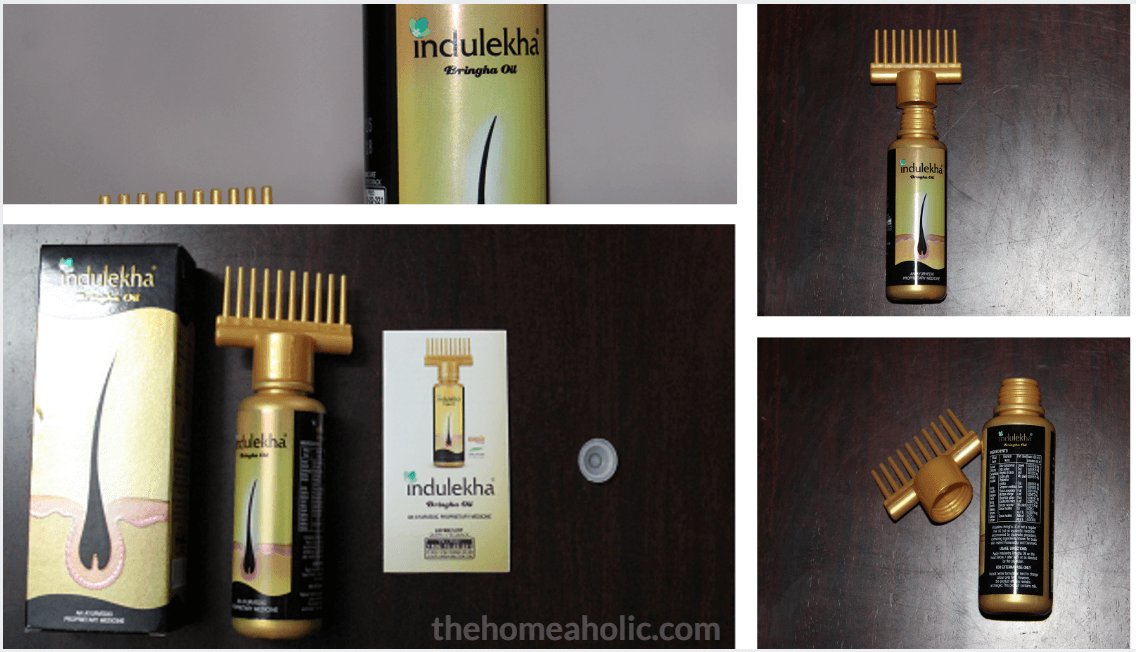 The Selfie Bottle Design
The most notable thing about this oil is perhaps not its smell, texture, or anything about the oil in itself.
It is the way it is packaged and presented to you.
Yes, I am talking about the design of the bottle, which, by the way, is patented.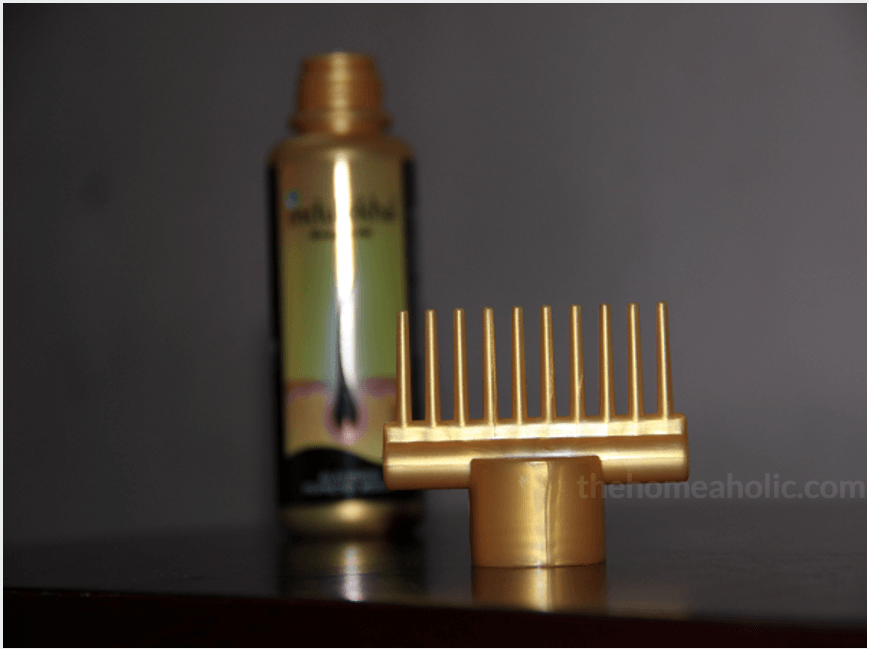 OK, let's go through the good things first.
The selfie bottle, as it is called, is characteristic of a smart and unique design. Meant to make applying hair oil an easy affair, this selfie bottle features a unique design with a special applicator tip that has comb-like bristles. When squeezed, the oil seeps through to the holes of the applicator so you can apply it easily on your hair.
The main advantage of the patented design is that it allows for easy application of the oil right where you want it. Whether you want to get some oil onto the scalp area or nourish the tips of hair strands or just apply it all over from root to end, the selfie bottle design makes it very easy for you.
Now onto the not so good things.
The bottle seems to leak some oil to the sides when used upside down. More to the point, when squeezed in an inverted position, the bottle lets the oil pass through right to the tip of the applicator fast, but not without spilling some oil from its mouth. We'd have liked to see a well-sealed covering wrap around the areas formed between the cap and the mouth of the bottle that ensures that the oil doesn't seep through.
If it's a bit frustrating to see oil drip down from the sides of the bottle then it's even more so to find the sides get sticky and oily all too often. What this means is that there is a good chance for dirt and grime to accumulate on the sides of the body, making it slightly uncomfortable to hold the bottle.  Unless you store it in a place sealed from dust or lock it away in a container, the sides of the Indulekha selfie bottle will need to be wiped clean every time some oil is drawn out of it.
Instead of just sliding down as you pull it through the hair, the applicator, at times, tends to get stuck causing a bit of a tangle. Therefore people with short hair would find applying oil using the applicator a lot easier than those with long hair.
One Observation
Some users confirmed in their Indulekha oil reviews that it was frustrating to see the bottle leak especially when held in an upside down position.
Personally, I've had no leak from the bottle. Even if it did a little, I wouldn't be too worried about it.
Indulekha Bringha Oil
Color and Consistency
The Indulekha oil is red in color, more of water melon-ish red.
As for consistency, it is not very thick per se. In fact, it is slightly on the thinner side and there is a bit of stickiness to it but nothing over the top.
You don't have to worry about whether your hair will remain sticky even after you wash it off.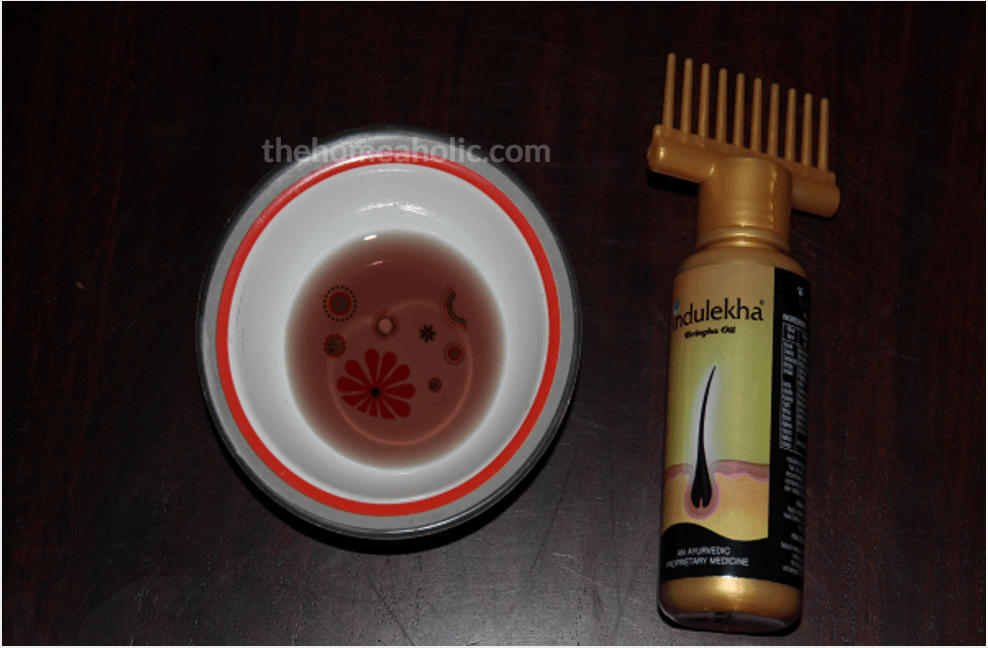 Smell
This oil, like many Ayurvedic oils, has a strong odor.
I understand that this hair oil has such a powerful odor, but to cover that strong smell, the makers could have chosen an odor that was not that strong or should have added a perfume ingredient to make it more pleasant.
The odor remained even after washing my hair, and that was a bit of a minor problem to me.
Indulekha Bringha Ingredients
The Indulekha bringha oil consists of an Ayurvedic formula made with special herbs and ingredients as listed in the table below.
Herb Name
Common Name
Scientific Name
Part Used
Beneficial Properties for Hair and Skin
Draksha


Grape
Vitis Vinifera
Fruit
Reduce skin allergy and burning sensation if any. Also known for detoxification and boosting the immunity of skin.
Amalaki
Amla
Phyllanthus emblica
Fruit
Vital ingredient for restoring hair tissues. Stops premature greying and makes the hair follicles become stronger from inside
Vatadha
Almond/Badam
Prunus amygdalus
Fruit
Enriched with Vitamin E, it is great for treating hair damage and controlling dandruff
Kaldarya
Curry Leaves
Murraya Koenigii
Leaf

Known to add strength to hair roots from within, Curry leaves are generally good for hair growth. Particularly effective in treating damaged hair, making thin hair shafts stronger, arresting hair fall, treating dandruff, and adding a bit of bounce to limp hair.
Svetakutaja
Indrayava
Wrightia Tinctoria
Leaf
Said to possess anti inflammatory and anti dandruff properties, making it a vital ingredient in the preparation of this hair oil.
Neem
Neem
Azadirachta Indica
Leaf
Has great anti-fungal, anti-bacterial and anti-inflammatory properties, promoting effective hair and scalp care.
Kumari
Aloe Vera
Aloe Barbadensis
Leaves
Made of proteolytic enzymes, Aloe Vera has a chemical make up similar to that of the primary protein of hair- Keratin. It is said to rejuvenate hair with its own source of nutrients, and helps repair dead cells on the scalp while acting as a conditioning agent, leaving your hair totally shiny and smooth.
Nallikera
Coconut Oil
Cocos Nucifera
Oil
Rich in anti-microbial properties, coconut oil is believed to make your hair healthier, shinier, and more manageable. In addition to that, it helps treat dandruff, prevent lice, condition and style hair, and keep it safe from heat and dust,
Yashti
Mulethi
यष्टिमधु in Hindi
அதிமதுரம் in Tamil
Glycyrrhiza Gabra
Root
The antimicrobial properties of this root has made it a common feature in hair growth formulas. Known to fight against dandruff, treat patchy balding, and prevent hair loss from aggravating further.
Amrita
Amrita
Tinospora Cordifolia
Stem
Nourishes hair follicles, promoting hair growth.
Brahmi
Brahmi
Bacopa Monnieri
Whole Plant
One of the key ingredients of the Indulekha hair oil. As an effective herb, it helps treat dandruff, reduce split ends, add lustre and texture to hair, and thickens roots thereby reducing hair fall.
Nallikera
Coconut Oil
Cocos Nucifera
Milk Oil
Karpura
Camphor
Cinnamomum Camphora
As it is
Known for its cooling properties, Karpura helps keep your head cool, while preventing hair fall due to dandruff and lice.
Kshiram
As it is
It purifies the blood and keeps blood flowing into the cells, stimulating hair growth. It also has good aromatic and cooling properties.
Bringharaj
Bringha, Maka
Eclipta Alba
Whole Plant
Known to be more effective than minoxidil in promoting hair growth, bringha oil arrests excessive hair fall and prevents premature greying. Thanks to its excellent cooling properties, this herb also keeps your scalp cool, removes stress, and helps treat alopecia.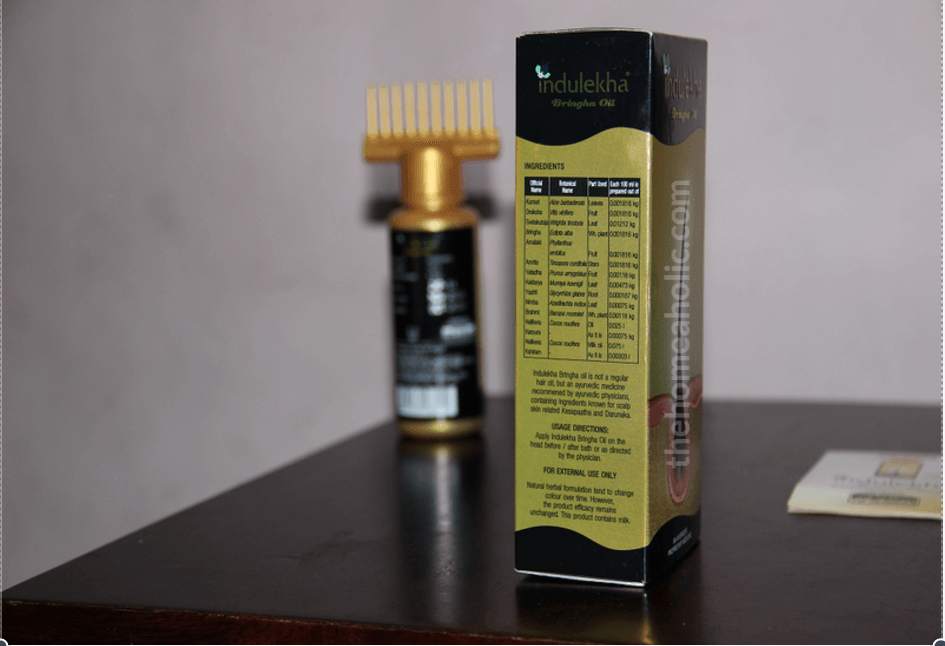 There you go.
That's an impressive list of herbal ingredients all blended together to form a complete hair care solution good enough to treat common hair issues such as dandruff, white hair, grey hair, and, to a certain extent, baldness.
How to Use Indulekha Hair Oil
Step By Step Instructions
Down below we have broken down the steps you need to follow to apply Indulekha bringha oil, but thankfully, it's pretty straightforward.
You can also check out the original instructions on the manufacturer's website here.
STEP 1
Open the inner cap of the selfie bottle and make a small hole in it for oil to drip through.
STEP 2
Put the applicator on top and turn the cap. Make sure you keep turning it and turning it until it's sealed and tight.
STEP 3
Using a wide toothed comb, pull through your hair to work out detangles, if any. You may also use the applicator to do so if that works for you.
STEP 4
Arrange your hair into a parting. Now you are all set.
STEP 5
While keeping the needles of the applicator in constant contact with your scalp, squeeze the bottle gently as you comb your hair from front to back.
STEP 6
As you squeeze, the oil is released to the scalp- in an even manner-through the tips of the needles. Repeat until you are sure you have enough amount of oil released to your scalp.
STEP 7
Finally, after applying desired amount of oil in your hair, use your fingers to gently massage your head.
There you have it.
This is how you apply Indulekha oil to your hair.
Is Indulekha Oil Good or Bad?
I think each of us are unique, and you can't make a generic statement about is it good or bad. Well, it's hard to tell.
But one thing is for sure. Being an Ayurvedic product curated from powerful herbs, this oil cannot be bad for your hair. I can tell you that.
Each and every herbal ingredient that has gone into making this Ayurvedic oil has something different, which, on paper, can help treat most of your hair problems, and that's a good thing.
However, you may not see any immediate results at all.
Yes, many reviews of Indulekha oil raise serious doubts about its effectiveness. I can only speak for myself so I thought it would make sense to put out a list of what I think are the advantages and disadvantages of using this product.
Check it out below.
Pros 
Made from natural herbal ingredients proven to target the root cause of many hair problems.
Most of them have been tried and tested in several Ayurvedic formulations and preparations for many years now.

Bringharaj and Brahmi are worth mentioning

.
The patented design of the bottle, particularly the applicator, makes the Indulekha hair oil a complete joy to use. As much as it's fun to use, it also adds a whole new dimension to treating a problem like hair loss or dandruff, which can

be a bit annoying 

at times.

Upon regular use the oil makes your hair look black, giving it shine and luster.
Cons
The bottle needs improvement in the design department. As was mentioned above, there is some leakage, making a fair amount of oil go to waste. Other than that, the design is unique and attractive.
The oil has a powerful odor that some of you might find offensive. If you hate anything that has, like, really strong smell, the Indulekha oil might not be a great option for you.
Here comes the obvious. It is very expensive compared to other hair regrowth oils and Ayurvedic preparations available in the market.
What are the Side Effects of Indulekha Bringha Oil?
There are no serious side effects to be wary about unless you have a serious allergy to some of the ingredients mentioned above or something like that.
Ayurvedic preparations, in general, are considered safe to use as long as they are made in compliance with the ancient method of preparation- for example preparing the active ingredient using the whole plant as against a particular part of the plant.
As was mentioned earlier, this is a specially prepared Ayurvedic formula made using whole plants (of a variety of different herbs) that are known to nourish your hair and make it stronger from the inside. While it's generally true that not all Ayurvedic formulas suit all kinds of people, but they never show drastic side effects.
While it's generally true that not all Ayurvedic formulas suit all kinds of people, but they never show drastic side effects.
That being said, if you have an allergy to one or more of the ingredients in this Ayurvedic oil, you might feel some sort of itchiness on your scalp, to say the least.
What About the Results?
Finally, we get to talk about the results.
I would say that Indulekha oil has, in part, helped me regrow hair in certain areas. But it takes time.
Though I would have liked to have seen more growth in certain areas, I can confidently say that Indulekha oil has provided decent results.
Let me add details.
Applying Indulekha oil has made my hair strands look thicker and healthier than they were before, adding a bit of volume to my hair in general.

Healthier hair means fewer chances of plaguing issues such as dandruff, split ends and higher chances of consistent hair growth without breakage.

Further, it did make my hair look shinier and kept it nourished.

What is more important is that the extra volume and length of hair means now I can make my hair cover certain bald patches.
Overall, the results so far have been quite encouraging that I would consider sticking to this treatment for some more weeks.
I think I can expect to get better results with it if I start applying it more frequently (than I do right now), and keep a watch on my diet.
Does Indulekha Oil Help with Hair Growth?
For all those wondering whether the Indulekha bringha oil had any effect on hair growth, here is what you need to know.
Well it does appear to help with hair growth, to some extent. There's a catch though.
For sure, it would be quite exciting to apply this oil all over your hair and wait for it to regrow quickly. And, I'd have been extremely happy to have seen some quick and impressive growth.
But it didn't happen. It seems to take quite a bit of time, yet I am sticking with it.
I don't want to give up on it just because it is not giving me the results that I am after soon enough. I guess I should give this hair oil some more time and see whether applying it on a regular basis helps hair regrow.
I'll be sure to report back soon with more details and some "before and after" photographs.
Final Recommendation
Each of us is different and our body responds to such hair fall treatments in different ways. That said, it might not be a bad idea to try this hair oil once and see what you get out of it- for two reasons.
It doesn't have any side effects for you to be wary about.
And, it doesn't hurt to test.
However, if you are struggling with heavy hair fall or dandruff issues or some sort of an allergy, it is a wise thing to consult with a dermatologist and take their opinion first.
My recommendation would be for you to try Indulekha oil once and see how useful it is for you. Well, it might be worth trying once, just to find out how helpful it is. 
FAQs 
Before I conclude, I would like to go over some frequently asked questions about the Indulekha oil.
Does this turn grey or white hair black?
How frequently and how long should I use this oil to see good results?
Will it resolve my dandruff problems?
Can it prevent the onset of hereditary baldness? No
Except for the last question, there is no better/safe answer to give than say "it depends". Yes, hair fall, hair growth or hair greying is a complex phenomenon where many factors such as age, stress, allergy, genetics etc. are at play.
P.S: What I think about Hair Growth Oils?
For me, hair loss or hair regrowth is a bigger problem than could be merely solved by hair care products like Ervamatin, Dhathri, and Indulekha etc.
I firmly believe that it takes more than a magic hair care solution to have a fairly good chance of hair regrowth.
The way I see it, it is important is to keep your hair well maintained with nourishing oils that give your hair shine and strength, to take enough Protein in your diet, and to do everything you can possibly do to avoid stress. As you'd know, keratin is such a vital component for hair follicles to grow and you simply cannot apply any hair care oil and expect to see good results unless you get enough protein in your diet.
With the Indulekha oil, you have the first one covered though.
Sure enough, it is packed with lots of natural ingredients that help you solve your hair woes but it just can't give you excellent results on its own. Well, you need to take care of the other two things mentioned above (Diet and Stress) to be able to give yourself a good chance to see some positive results.
That's my two cents.