This is not a sponsored post. All products listed in this review were bought by us and all our opinions are strictly ours.  However, we may get a small commission if you end up purchasing products through any of these links, .
Best Protein Bars in India 2023- Genuine Reviews of Top 5 Products
Here is a roundup of the best protein bars in India, with respect to factors like nutrition, source of ingredients, texture and most importantly, taste.
We did some research to help you choose the right protein bar for your snacking needs. We spent over 15 hours researching different products and brands in the Indian market and reading materials to find out what makes a good protein bar. 
We shortlisted different brands/products that matched the criteria and went through the label information paying special attention to their list of ingredients.
We also sampled protein bars from different brands in order to distinguish between the ones that tasted well and the ones that didn't.
We did the research for you!
Here are Our Choices….
After a week of researching various brands, investigating product labels for ingredients, going over hundreds of reviews online, we hereby give you a roundup of the top protein bars and products available in India.
Best Overall
Yoga Bar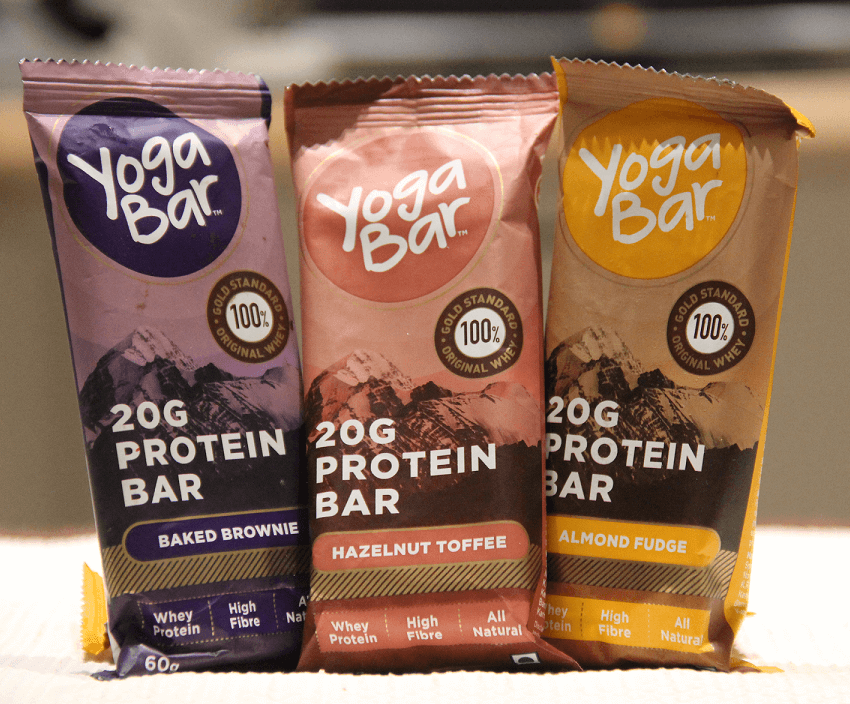 20 gm of Protein to 6 gm of sugar
A single serving of this bar gives you about 270 calories with 20 gm of natural protein. What's striking is that it gives you all that protein with less processed sugar as low as 6.0 gm.
For Gym Goers
Max Protein Bars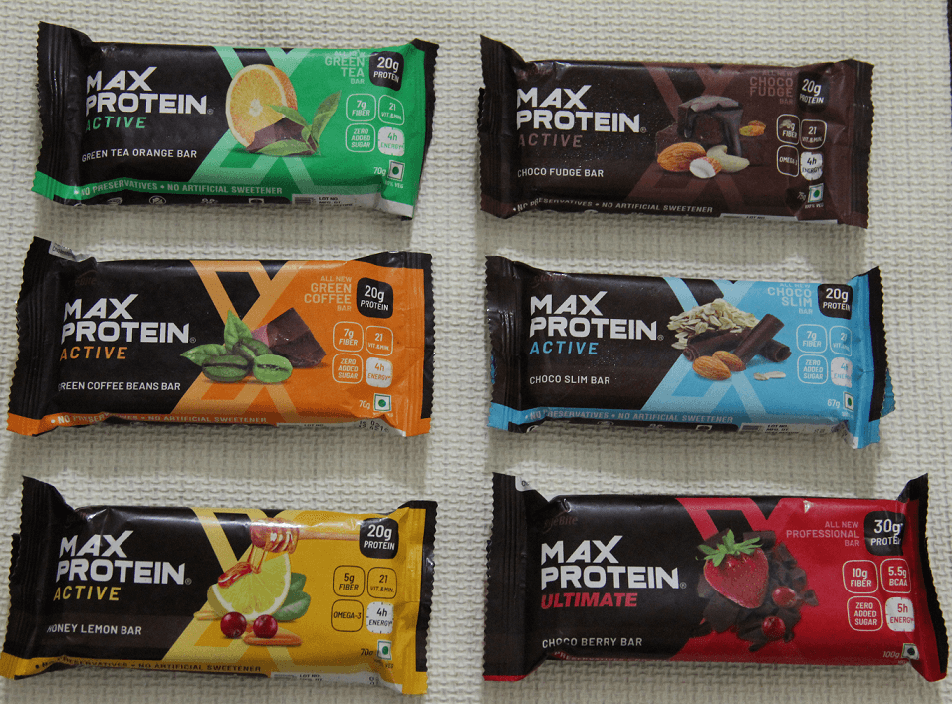 20 gm of Protein to 6 gm of sugar
Largest selling bars in the country, Max Protein gives an instant boost of nutrients and about 20 grams of protein. A lot of gym-goers swear by eating these bars for their quick protein fix after an exhausting workout.
There are surely a few other bars that you can try. But if you care about all that extra sugar and added ingredients, these protein bars should be good enough.
So before we look at the other protein bars we reviewed, let us go over a few key things that we thought were important.
Of all the energy bars in India that we tested and sampled, we found Yoga Bar protein bars to be the best in India, mainly because they provide 20 gm of protein without delivering a caloric excess. Besides, they have a good list of ingredients, and come in a variety of different flavors. And , the best part is, they're not excessively priced.
Taste-wise, too, these bars are good and don't have that strong aftertaste associated with any healthy, calorie-dense meal with a clean nutrient profile.
How We Graded the Protein Bars
Nutrition, ingredients, macros, quantity of sugar, and, last but not least, taste are some key factors that we looked at to determine the quality of these bars.
Nutrition
Sure, protein bars are a convenient snacking option; they can replace your meals, serve as a fuel post workout, and act as a filling snack that keeps you going between meals.
But not all bars are healthy. Some are simply loaded with too many calories to be even considered healthy.
Worse yet, some are just filled with so much sugar that they could give you a sugar crash.
Towards the end of our research, we found different kinds of ingredients than we thought was possible.
And, the ingredients used in making these protein bars varied from one brand to another.
Lack of clear guidelines on grading ingredients didn't help us much and added to the complexity, so we had to simplify it by establishing some simple rules for ourselves.
Break down a bar into its ingredients and you'll find a protein source, sweetener (natural or artificial), fiber in addition to fat for giving it the right texture, taste and flavor.
That's precisely all the factors we'll be looking at for grading.
Ingredients
Protein bars often have different kinds of ingredients, ranging from whole foods to highly processed stuff.
Sadly, in India, many protein bars come with highly processed ingredients and are not often as healthy as they are supposed to be.
Here are few rules of thumb, though:
1) Bars with good sources of protein particularly whey, peanuts or any kind of nuts (if vegan), and rice would be a good place to start.
2) Bars with no sugar or almost no artificial sweeteners and preservatives would be ideal but good luck searching for one.
It's tough finding a protein bar in the market that ticks both boxes but there should be something that at least comes close.
Macros 
Protein bars are just not about protein. Any bar that achieves a balanced macro profile would be the right choice.
Appearance and Texture
Appearance isn't too important but given the average protein bars taste, anything that has an inviting appearance is welcome. As for texture, a bar that is crunchy and easy to bite into is great.
Taste
It's hard to grade a bar based on taste since it is subjective. The flavor and taste that all the ingredients bring out is all that matters. Isn't it?
Whatever your goal is, whether you are looking to use it for weight management or just throw it in your salad dressing, these products are good.
What's more, most of these products are easy to find online, so no matter your location, whether you are in Delhi or Kochi, you will be able to buy them off Amazon or Healthkart or any other online grocery store for that matter.
Let's get right to it. 
Yoga Bars Protein Bar Review
Ingredients
When it comes down to the number of ingredients used, the Yoga Bars Protein Bar stands out.
With just less than 15 odd ingredients, the Yoga Bars protein bar is heads and shoulders above other protein bars discussed in this review.
Another good thing is its ingredients (mentioned below) are all simple, healthy and clean. True to its makers claims, there are no heavily processed or artificially made sugar alcohols in these bars.
The bars we sampled had a good mix of nuts and dried fruits (Hazelnut, dates, almonds) along with fiber-full Flax seeds, Apple Fiber etc. Belgian chocolate is used to bring out that cocoa flavor and it really comes through.
The addition of natural flavor particularly vanilla and Rosemary extract gives this bar a special flavor unlike other protein bars which simply taste like chewable pieces of cardboard.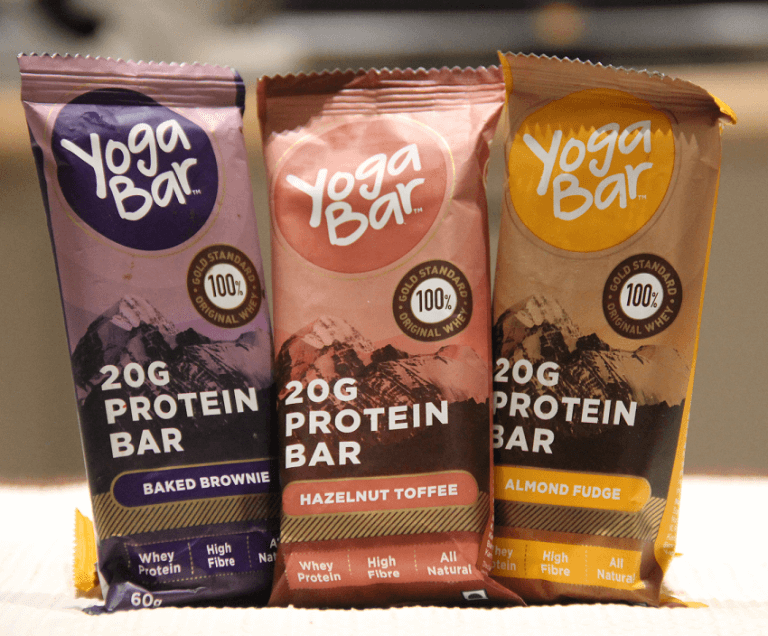 Protein and Sugar 
The protein in this bar comes from whey, particularly whey protein concentrate and whey crisps.
Oligosaccharides could have been avoided though considering the rich blend of other ingredients that have gone into it, but it's not harmful and all.
The artificial sugar in the dark chocolate might be an area of concern particularly for those who like to steer clear from all forms of sugar. Other than that, it has less traces of artificial sugar, which is good.
Flavor
They come in different flavors like Cranberry Blast, Almond Fudge, Hazelnut Toffee and Baked Brownie. If you don't know which one to try first, Yoga Bars sells them all in an assorted pack . Try this value pack before you're ready to commit to a particular flavor.
Bottom-line
Overall, it ticks all the right boxes for a high quality protein bar. Its loaded with nutritional goodness, has a short list of clean ingredients and, obviously, that makes it one of the most expensive options as well. You're better off buying them in bulk if you like eating them.
Everyone that I recommended this to have come back saying they loved the bars.
There's no reason why you shouldn't try it.
Max Protein Bar Review
Ingredients
Max Protein bar derives its protein from a blend of sources such as whey protein concentrate, soy nuggets, soy concentrate, calcium caseinate, soy protein isolate, flax seeds, almonds, and cashew nuts.
It's sweetened with oligofructose and maltitol ( a popular ingredient in many Zero Sugar products), and flavored with hazelnut and chocolate.
Appearance and Texture
It's made with chocolate and nut pieces, which not only makes it look yummy but encourages one to bite into it. It's not too hard or soft but somewhere in the middle; it's chewy in general but gets a little hard when frozen.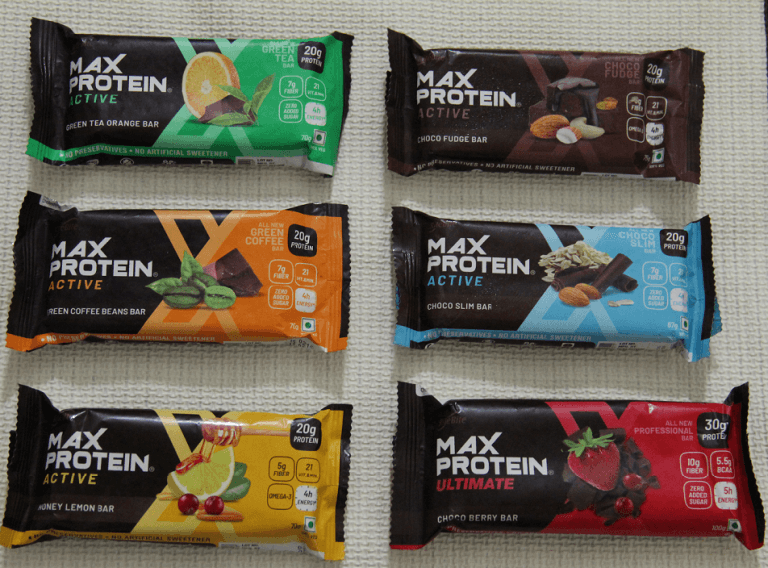 Taste
It's not your average protein bar and was certainly good to taste. It doesn't have an over-the-top chocolate taste, but the nutty flavors came out really well.
Protein and Sugar
One serving of this bar gives you 20 gm of protein and keeps you full for at least 4 hours (according to an independent study done by the maker). What else do you need from a post-workout bar? But there are some downsides that can't be ignored.
Brands find a way to masquerade sugar in the form of sugar alcohols in all their zero-sugar products but in the case of Yoga Bars adding maltitol, which is regarded as a safe sugar substitute, is not ideal.
Bottom-line
Overall, the protein bar was a hit and miss. It gives you 20 gm of protein, which is great.
But, there are better bars out there that give you as much protein and nutrition all without bothering you with the consequences of some funky ingredients seen in this bar.
It's available for sale everywhere (online and offline) and that sort of explains why it takes home the best selling title.
Hyp Protein Bar Review
Ingredients
The Hyp bars are primarily made with a special whey and milk based blend, with all the protein coming from whey protein concentrate, milk protein isolate, whey protein hydrolysate, oats and almond butter.
As with many other zero sugar bars in the market, there is no refined sugar in use. Instead, the bar is sweetened with maltitol, oligofructose and glycerin.
While it gets its flavor from cocoa powder and cocoa solids, a blend of vegetable oils, emulsifiers and guar gum have been used to bind it all together.
Appearance and Texture
All Hyp Lean bars look like a Twix bar and if you're fond of one of these bars you'll appreciate the chewy texture which is easy to sink teeth into. It doesn't have too much crunch to it though.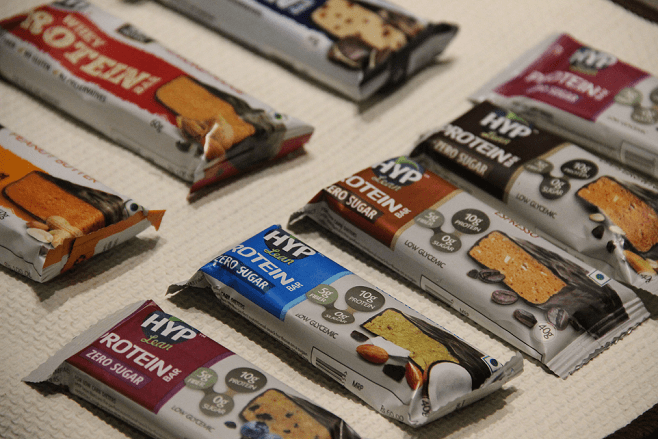 Taste
It was not extra sweet and lacked even the slightest hints of true cocoa flavor but nevertheless its chocolate layer was quite satisfying to taste.
We were not sure what to pick from the four different flavors- coconut almond, espresso, oats brownie and berry burst. Anyway we decided to buy this variety value pack which comes with 8 bars 2 bars of all the flavors.
That way, we could try out all flavors and find the one we love, and still save some cash.
Bottom-line
At just 10gm, the Hyp Lean protein bars don't pack in as much protein as the YogaBars and Max Protein but they help you achieve decent macros. The 5g fiber is a nice bonus, too.
While we liked the flavor too, Hyp failed to impress us with its addition of sugar substitutes like Maltitol and Oligofructose. In fact, Hyp is not just alone; adding these sugar substitutes and polyols to keep overall sugar down is now a common tactic by makers to sell their protein bars as zero sugar products having very little carbs.
But, so much sugar alcohol doesn't sit well with protein bars sold as being zero sugar and low carbs. Right?
Rine Bar Review
Ingredients
The makers claim that Rine bars have no artificial ingredients and additives in them and are GMO free. A peek at the ingredients label just confirms their claims are true.
The Rine Mighty Chocolate Bar gets its share of 14 gm protein (13.74 gram, technically) from Whey Protein and Pea Protein concentrate, as well as Soya isolate. Natural vanilla and rosemary extract have been added to Cocoa, Cocoa Butter and Hazelnuts to give the bar some flavor, whereas honey and jaggery have been used for sweetening.
Hazelnuts, watermelon seeds, dates also feature in the list of ingredients,rounding up some good quality ingredients.
Appearance and Texture
The Mighty Chocolate bar that we sampled had a good mix of nuts thrown in and it didn't look crunchy at all. Just one bite into the bar and we realized it was actually crunchier than it looks, and not overly heavy or chewy as we thought it would be.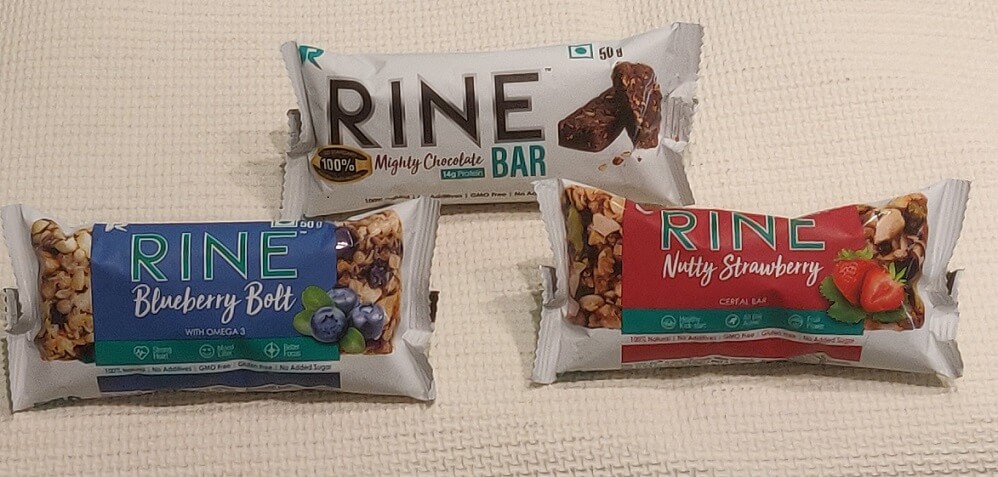 Taste
The bar is quite tasty and does not have any trace of artificial sweeteners that some protein bars in India have come to be known for. Chocolate lovers will find it to be very delicious , and but those who don't like cocoa, the strong aftertaste might be a real turn-off.
Bottom-line
If you're looking for a nutty tasty bar that resembles a cereal bar but offers double as much of protein and a good amount of fiber without throwing calorie count off, Rine bars is certainly a good choice. The Mighty Chocolate bar promises to be tasty and nutritious with a good nutty crunch but there are a few more flavors for you to choose from. That being said, it might be more suitable for vegetarians and not vegans due to addition of honey as an ingredient.
Protein Bars in India
The average young Indian adult is now more focused on being active and staying fit than ever, and is more than willing to incorporate healthy supplements and snacks into their diet.

The nutrition and fitness brands that sell healthy meals and protein-packed snacks took notice and this has led to the emergence of a new segment in the healthy snacking market- the Indian protein bar market.

The market is in its nascent stages with almost half a dozen decent brands selling different protein bars, but is expected to grow three times in the next five years with more brands slated to enter.

Not a surprise seeing how protein bars in India are soaring in popularity.

If reviews of certain protein bars in India is any indication, they are extremely popular nowadays because they are not just a great replacement for a snack but they're also touted to be a healthy option too.

They are a hit among both fitness enthusiasts and casual eaters. Even though both look at protein bars as a convenient way to consume protein, these bars really come in handy for fitness enthusiasts who often look for a quick fix or protein right after a gym session.

But surely not all protein bars are the same. Some protein bars are loaded with so much sugar, and some with excessive calories. It simply doesn't make any sense. And when you choose the wrong one your goal of healthy snacking may go for a toss. After all it is all about getting a good amount of protein without it impacting your level of macros, isn't it?

Any healthy protein bar that passes as a snack is supposed to contain only natural ingredients, be devoid of artificial sweeteners and other agents that add taste and give a new flavor.

But that's hardly the case.

Published by