Best 750 Watt Mixer Grinder Models and Brands in India
The 750-watt mixer grinders belonged to commercial kitchens and restaurants, a few years ago.
Or, at least, so we thought.
But times have changed and how.
Any good 750w mixer grinder model in India is now marketed as a multipurpose machine loaded with smart features to see through a host of stuff in the kitchen.
Confirming the craze for mixies with power-hungry motors, two out of three urban kitchens are home to such high power mixer grinders, thanks to the number of tasks they help complete.
Whether it be grinding, grating, chopping or mincing, a powerful mixer grinder makes a light work of it all, speeding up the cooking process. In addition to that, it also helps take care of a number of kitchen applications such as grinding rice, roasted cereals, spices and condiments, as well as preparing flour to make idli, dosa and stuff like that.
No wonder why these high power machines have become very popular in the market a short span of time.
Speaking of the 750w mixer grinder segment, there are several brands and models in the Indian market. Philips, Preethi, Panasonic, Bajaj, Kenstar, Butterfly and Premier are some of the well-known brands.
These makers are quite popular because they always keep themselves busy launching new models, improving the feature set of existing models by adding smart functions and different attachments that increase the overall value of the model.
Best 750-watt grinder for most people
Preethi Zodiac MG 218
After researching for over 50 hours, we can say with confidence that the Preethi Zodiac is best mixer grinder for most people.
The Preethi Zodiac does with ease everything that a good mixer grinder should without any bells and whistles- yet it matches the performance or outperforms other mixer grinder models from different leading brands in its class.
Design wise, a lot of thought has gone into the machine. Zodiac sports a unique tripod design that allows it extra sturdiness when it's running. Unlike other normal mixer grinders, the motor is firmly attached to a tripod stand and not to the body itself. As a result, this keeps the body of the housing from vibrating excessively, and increases the longevity of the motor multifold.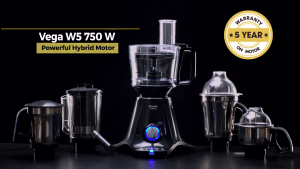 As for materials, the Zodiac has a strong body made of ABS plastic. The jars that come with it are made of high carbon stainless steel and plastic and are finished with ergonomically designed handles. The blades are made out of stainless steel and are designed conveniently to be able to handle different tasks. The controls are simple and sweet: the control knob consists of a pulse along with a rotary switch that operates between 3 speeds.
Fitted with a power-packed 750-watt vega V5 motor, this machine is more than a mixer grinder. It supplies enough power for you to get through all your tasks in the kitchen. For those who are wondering, it can slice, grate, mince, mix, blend, puree, and chop as efficiently and quickly as any commercial mixer grinder in restaurants. Now that looks like what a mini food processor would do.
Pros
The Preethi Zodiac handles all tasks with ease and gets the job done. In our tests, we had it grate, mince, chop, blend and knead dough- one after another. And it did everything adeptly, not struggling with anything at any instance.
Proof that its resourceful 750-watt motor brings out enough power to help you carry out some of the cumbersome tasks that you expect to do in your kitchen.
Unlike most high power mixer grinders in its category, the Zodiac doesn't make too much sound while running, even when doing motor-intensive tasks such as kneading atta dough. Kneading atta was always never going to be easy for a 750-watt mixer grinder motor, but the Zodiac got it done without any real effort.
And that's a good thing.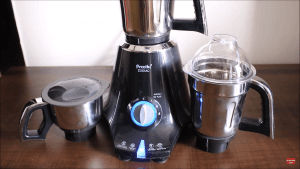 Considering what it is designed to do, It comes with more jars than you'd need, and all of them look and feel durable. Out of the box, you get 5 jars- a 2.1L Master Chef Jar, a 1.2L 3-in-1 insta fresh jar and three grinding jars.
A big 1.5L jar for wet grinding, a medium sized 1.0L jar for dry grinding, and a small 0.5L jar for preparing chutney.
The unit comes with several separate blades for different purposes, a drain tap type unit that quickly ejects the contents of the juicer jar, and a spatula for mixing it in.
What's more, the Zodiac is much easier to clean than other machines in its class, and it can be stored pretty easily when not in use.
Cons
Here are a few shortcomings of this Preethi mixer grinder.
It's not a big unit and a slight disadvantage of a machine like this is that you should cut veggies into small pieces so that they go into the feed tube without any hassle. This is something very important if you are planning on using this unit for chopping or grating or slicing carrots, yams etc.
Characteristic of any high power motor, this unit gets a little noisy, driving up the noise level at times but it is nowhere close to a level that would hurt your ears.
The Bottomline
Overall, the Preethi Zodiac is a complete package.
No matter whether you want to grate onions and carrots for salad, or mince a portion of meat to make cutlets and kebabs, this mixer grinder cum food processor with its robust 750-watt motor can get it done for you as quickly as possible.
Highly recommended.
Best 750 Watt Mixer Grinder for People on a Budget
Sujata Dynamix 810 Watt Mixer Grinder

If you are on a budget but still in need of a high power mixer grinder, get the Sujata Dynamix- it's a great mixer grinder for its price.

Compact and powerful, it houses a well rated 810-watt motor that guarantees top-notch performance for years, and comes with 3 jars for different purposes and added convenience.

This is the machine you want if you use your mixer grinder quite a few times every week or if you are someone who needs a powerful motor when cooking for a large family. In fact, it has got more power than most of you will ever need but it isn't costly and that's a good thing.

The Sujata Dynamix is reasonably priced given the value and performance it can offer. Compact and sturdy, it must be a great fit for those kitchens where space is a bit of a premium. Most mixer grinders in the Indian market have an L-shaped design, but Sujata Dynamix with its erect design profile doesn't occupy too much room, making it the best choice for smaller kitchens.

The main unit with motor assembly comes with 3 jars and lacks fancy accessories that you get with some branded mixer grinders in the market. But we think it is great the way it is, and the jars allow you to complete most tasks in quickly and conveniently. And that's what matters the most.

The quality of materials used in the construction of the main unit and jars is good.

Published by